Program Details
Summer 2020 Live Fitness Classes:
Loading Price...

Registration was unsuccessful!
Summer 2020 Live Fitness Classes
We're all feeling the lack of movement in the wake of COVID-19. Whether you have an urge to stretch, get stronger, burn serious calories or kick and punch, we have you covered this summer. With over 10 classes to choose from at lunch and in the evening, you're sure to find something that works for you. Our qualified and experience trainers will teach you how to move better and stay healthy in this ever-changing environment.

Cancelation dates:
July 1 - Canada Day
August 3 - Civic Holiday

Problems registering or finding your zoom codes? E-mail mark.nadon@carleton.ca

Find our live schedule here.

This pass will include access to -all- of our summer classes in one easy package. We will not be offering single class registration at this time.



Once registered, check your receipt for a zoom link, so you can join your favorite class.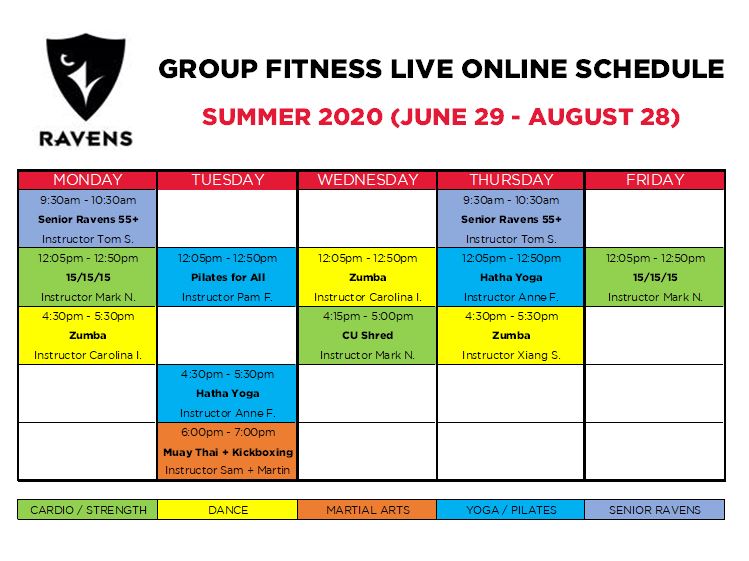 Program Offerings
Summer Fitness Classes (Full Access Pass)
Spring/Summer 2020
Summary
Dates
Time
Location
Status
every weekday from 9:30 AM to 7:00 PM
Starting Mon, Jun 29 2020 and Ending Fri, Aug 28 2020
9:30 AM to 7:00 PM
Online
**No Class**
Wed, Jul 1 2020
9:30 AM to 7:00 PM
Online
Cancelled
**No Class**
Mon, Aug 3 2020
9:30 AM to 7:00 PM
Online
Cancelled